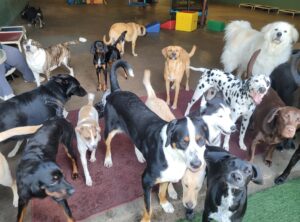 There is an alternative to leaving your dog or puppy alone all day. Dogs can enjoy their day at Kamp K-9 Dog Daycare

Kamp K-9 is an old idea (kennels) with a new twist; a fully interactive, no-cage facility for your canine companion. This concept allows for proper socialization of your dog. Since dogs are pack animals, too much alone time can be detrimental to a dog's physical and emotional well-being. Our facility allows a dog to participate in pack activities under constant, caring supervision. We have playground equipment, toys, dog furniture, and even an outdoor play area with pools for summertime cooling off.

Proper socialization is one of the biggest aspects of a well-behaved dog. If your dog is left on its own for extended periods of time, frustration can and often times does lead to behavior problems including excessive barking, digging, chewing, and relieving themselves indoors. Developing social skills is important for dogs, just as it is important for children in pre-school. Dogs need to interact with other dogs and other people to properly develop these social skills, which leads to a happier, healthier pet. Best of all for the busy dog owner, your dog will be so tired at the end of the day, he or she will just want to go home and relax with you.

ALL dogs must undergo an evaluation for temperament and suitability before admittance to daycare. Evaluations are done by appointment only, and will be scheduled as soon as we receive a completed enrollment form.

Kamp K-9 has been family owned and operated since May 2003, and we take the position of caretakers for your pets very seriously. We have been educated in pack dynamics and dog behavior in addition to being certified in Pet First Aid and CPR by the American Red Cross. We are proud members of NADDA (North American Dog Daycare Association).